Scuba Diving
Please click here for all posts related to Scuba Diving
Scuba Diving gave me the opportunity to make my work from my passion!
After my first ´Discover Scuba Dive´ during a holiday in Turkey, I straight knew I found a new passion. It took however 2 more ´Discover Scuba Dives´, during other holidays before I finally had the money and time to do my first Open Water Course. During my work for a touroperator called ´Diving Adventures´ in the Netherlands, I was invited to Egypt and did my Advanced Open Water Course in Dahab in 2004. There I made a clear decision for myself: I´m not an office girl and I want to become a diving instructor. You can read the full story of how I become a scuba dive instructor by clicking here.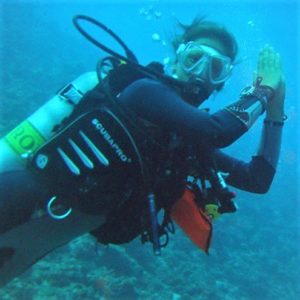 Here is an overview of where I took my next ´go pro´ PADI courses:
PADI Rescue Diver Course & Emergency First Response, with Dive Academy, Gran Canaria
PADI Divemaster Course Internship, with Dive Academy, Gran Canaria
PADI Assistant Instructor Course, with Dive Academy, Gran Canaria
PADI OWSI (Open Water Scuba Instructor) – IDC (Instructor Development Course), with Dive College, Dominican Republic
PADI Instructor for Specialties Courses, with Dive College, Dominican Republic:
– Emergency Oxygen Provider
– Enriched Air Nitrox
– Search and Recovery
– Underwater Naturalist
– Drift Diver
Emergency First Response Instructor and Care for Children Instructor Course, with Dive College, Dominican Republic
PADI MSDT (Master Scuba Diver Trainer) – rating, after qualifying 25 Open Water Students.
Here is an overview of the places I worked as a ´PADI Pro´:
Dive Academy, Gran Canaria, Spain
Pro Marine, Hotel Royal Catalonia, Punta Cana on Dominican Republic
Diversity Diving, Playa del Carmen, Mexico
Ocean Pro, Veligandu Island Resort, Maldives
H2O Sportz, Hamilton Island, Whitsundays, Australia
Here is an overview of the places I dived for fun (next to the above places I also worked):
Egypt: Dahab
The Netherlands: some lakes
Mexico: The cenotes (full cave dive)
Indonesia, Bali: Gili Islands and Nusa Lembongan
The Philippines: Malapascua, Bohol (Anilao), Negros, Coron
Spain, Canary Islands: El Hierro, La Restinga; La Palma, the dive with the crosses; Fuerteventura, Corralejo, Lobos Island
Thailand: Phuket Island, Hat Nai Yang; Koh Lanta Island, Koh Haa, Koh Lipe Island and Phi Phi Islands.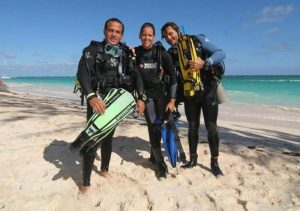 Currently, I´m not working as a diving instructor but I am motivated to help anyone to make the step and become an instructor since it was one of the best things I have done in my life so far. I was able to work in all these countries, make my dreams come true and combine one passion with my other passion: travelling! Also, I met so many new friends all over the world, who I still get to see again on a regular base, either accidently or planned. It´s amazing, working as an instructor over the world has opened a brand new world for me and made our planet earth at the same time much smaller but not less beautiful! Besides of being motivated to help other people become either a diver or to ´go pro´, I also like to share information and stories about all the wonderful places I dived so far.
I´m in the process of becoming a PADI AmbassaDiver and I am a contributor to The Scuba News.
It´s a small world after all: small enough to keep meeting friends on the most unexpected places but still big enough to discover many new places and great spots to dive.
Click here for my splashpacker Facebook page or here for my Instagram account.