Restaurants, Night Life and Evening Entertainment in Corralejo
After your active day in Corralejo, no matter if you have tried one of the 10 things to do in Corralejo (Click to open in a new window) or if you have been surfing, you will be hungry. The good news is that there are plenty of nice places to eat in Corralejo, whether you´re looking for typical Canary food, fresh fish, Spanish dinner, international meals or if you like to choose something from the big Italian influence in town, you won´t be disappointed.
Personally, I have a preference for local places with low to average prices, sometimes a bit off the beaten track. So if you´re looking for fancy restaurants in the touristic areas, you might not find what you´re looking for in this post. My choice might not be the same as yours but so far most recommended places below got appreciated very well by people travelling to Corralejo. I´m vegetarian but, to make it a bit more complete, I try to include some non-vegetarian places too. Feel free to share your favourite restaurant in the comment box at the end of the article, if I missed that one out. For more information about my style of travel, please click here.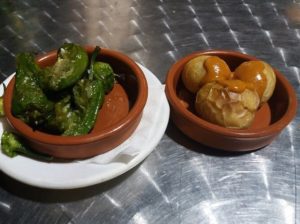 Food & Drinks of the Canary Islands
Typical food of the Canary Islands and Fuerteventura
Tapas
Typical tapas on the Canary Islands and Fuerteventura include:
´Papas Arrugadas with mojo sauce´: small Canary potatoes with a red or green pepper-spiced sauce.
´Pimientos de Padrón´: fried green peppers prepared with sea salt.
´Gambas al ajillo´: prawns in hot garlic oil.
´Queso Majorero´: goat´s cheese from Fuerteventura. Sometimes it is offered fried (´queso frito´) with marmalade or honey.
´Ensaladilla Rusa´: Russian Salad with boiled potatoes, carrot, peas, eggs, olives, mayonnaise and sometimes tuna or other vegetables like onion or peppers.
´Tortilla Española´: omelette with potato, onion and parsley.
´Boquerones en vinagre´: anchovies in vinegar
´Pan de matalauva con alioli´: Bread prepared with green anise accompanied with garlic mayonnaise sauce
More tapas include Serrano ham, fish croquets, mussels, squid, mushroom in garlic oil, sardines, and much more. Cheeses from the other islands include ´queso tierno´ (soft cheese), ´Flor de Guia´ from Gran Canaria and smoked cheese from La Palma.
´Pimientas de Padron´ (left) and ´Papas Arrugadas´ (right)
Gofio
Gofio is typical and traditional of the Canary Islands and has been the basis of nutrition for a long time in history. It´s a toasted grain, originally sweetcorn, used as a breakfast cereal, especially for children. It is also used in soups, purees and other foods, I can recommend to try one of the Gofio desserts.
Other
Seafood is popular. Fresh fish, calamares (squid rings) and prawns are common and paella can be eaten in most local places too. Meat which is commonly eaten on the islands include pork, chicken, beef, rabbit and sometimes goat. One of my favourite soups is called ´potaje de lentejas´, a lentil based vegetable soup. Local fruits, nuts and vegetables of the Canary Islands include banana, mango, oranges, cactus fruit, figs, almonds, tomatoes, potatoes, chestnuts, grapes and much more.
Typical Drinks of the Canary Islands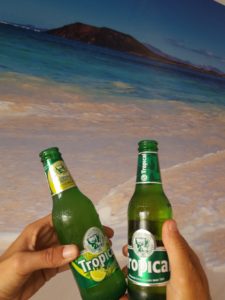 ´Cerveza Tropical´ Beer from Canary Islands
Beer & Wine from the Canary Islands
Canarian commercial beers include ´Reina´ (original Tenerife), ´Dorada´ (original Tenerife) and ´Tropical´ (original Gran Canaria). Grapes are cultivated and wines are made on all Canary Islands, except of Fuerteventura. Most popular are the wines from Tenerife and Lanzarote, with Lanzarote offering a nice, dry white wine and sweeter dessert wine. If you´re not into Canarian wine, all places offer international and Spanish wine too, like Rioja red wine from mainland Spain for example.
Rum from the Canary Islands
Arehucas is a rum from the Canary Islands, producing since 1884 in the same named village on the island of Gran Canaria. Arehucas was originally made from the sugar cane and is now a known brand on all Canary Islands for rum, you can choose brown or white rum. ´La Aldea´ was a distillery on Gran Canaria too but moved to the island of La Palma after closing down in 1960 and La Aldea is now on La Palma still producing from the fresh cane juice. Honey rum is a popular drink and will be offered in many places as a free shot after your dinner, locally knows as ´Ron Miel´.
Coffees on Canary Islands
Typical coffees include ´Café Americano´ (black coffee), ´Café Leche-Leche´ (white coffee with normal and sweet condensed milk) and ´Cortado´ (small espresso with a bit of milk). Be careful with a ´Baracito´ in the morning, because it contains coffee, milk, condensed milk and a liquor, sometimes even with lemon and cinnamon.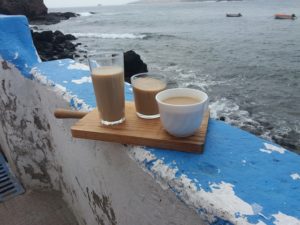 Typical coffee on the Canary Islands.
Places to eat in Corralejo, Fuerteventura, Canary Islands
So after you now know something about typical Canarian dishes, let me share some of my favourite places to eat in Corralejo. Even though, they are not only about Canary food, you might choose for an international restaurant but still enjoy a ´tropical´ beer with your dinner, have ´Gambas al ajillo´ as a starter or choose for a gofio dessert with a ´cortado´ after your dinner. Most of the products of the Canary Islands are offered in almost all bars, either in the form of drinks, starters or desserts. Even in the Asian restaurants you´ll probably get a free honey rum after your dinner.
Restaurants & Bars for having Dinner in Corralejo
Tapas in Corralejo
´Mas que Nada´ – tapas
This is absolutely my favourite place for Canary food. It is located in ´Calle Mirlo´, next to the big Hiperdino in the old part of town. The place looks a bit like a cafeteria with an advertisement of ´chicken & chips´ outside. But they offer a tapas menu which just makes you wanna come back. Besides of the tapas, they also have homemade pizzas, ´platos combinados´ (main dish plates), a variety of Argentinian empanadas and nice desserts. They also offer breakfast and lunch and their menu is very complete. The prices are very cheap here but this doesn´t make the quality less. My favourite tapas are the delicious spinach croquettes. Even though the place is usually full of local people, they now have an English menu card available. Closed on Sundays.
TIP – Go inside to check what´s in the glass vitrines, they have daily fresh food prepared which is not all on the menu card.
Other nice and populair places for tapas are ´Pincha Cabra´ and ´Casa Domingo´. Both are also located in the old part of town. Just ask your reception, the names are well known in town. In my opinion, the quality is similar to the one in ´Mas que nada´. If you would like to go to a more fancy restaurant for tapas, try ´Tapas Oscar´ on the square with more touristic restaurants in ´Calle Iglesia´.
Fish & Meat in Corralejo
Avenida – Spanish restaurant
Even though this place has a limited choice for vegetarians (salad, a few tapas or a Spanish tortilla), it´s well liked among the non-vegetarians. The place is known for big, but good, plates for almost no money. Many local people go there too on a regular base. It´s located in ´Calle Gral. Prim´, also in the old part of town, just ask around or google the place. Sometimes there can be a long queue, so make sure to go well in time. Closed on Mondays.
TIP – If the plates are too big, you can also order ´half a portion´, which might be enough!
A good place for fresh fish is called ´La Loncha´ and is located right in the harbour where you can find the small stands to buy a ticket to Lobos. I heard that this place is owned by the fishermen. They are open everyday from 07.00 am till 09.00 pm.
Fresh Fish & Seafood on the Canary Islands
Paella in Corralejo
La Arroceria – Paella place
This place is a bit more expensive, I have never tried it but have heard that it´s very good. The place is located, again in the old part of town, in the street called ´Calle Pejin´, behind the big Hiperdino. The place is open both for lunch and dinner in the weekends, then on Wednesday, Thursday and Friday in the evenings only and is closed on Monday and Tuesday.
TIP – Search in Google under ´La Arroceria Corralejo´ for updated opening times.
Although there are many places in Corralejo where you can eat paella, this place in particular is specialised in paella. You can choose between a different variety including meat, fish or vegetarian and pick your own choice of rice.
Burgers in Corralejo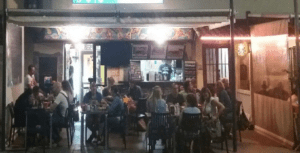 ´Single Fin´ – burgers
It´s well liked among the surfer community but seems to attract all kind of tourists. The place offers a huge selection in vegeburgers and hamburgers. All food is prepared in an open kitchen. You have an option to choose from homemade bread, which is delicious. The burgers are huge and especially the ones with the homemade bread. Be warned that you might not be able to finish all your food, but maybe it depends on which activity you choose for the day. Closed on Wednesdays.
TIP – Sometimes it can get very busy but they do take reservations.
There are many other places serving hamburgers. Some of them which I haven´t tried are ´Break Out Bar´ and ´500 gram meat ´n´ burger lab´.
It´s always busy at ´Single Fin´ Burger Bar in Corralejo
Pizza & Pasta in Corralejo
Big Wave – Pizzeria
Nice, Italian family run, restaurant offering good pizzas of all kinds. You can choose what kind of bottom you like (thin, thicker and which size). They have a huge selection of ingredients. The place is located in ´Calle Jesús Machín Santana´. Closed on Tuesdays.
TIP – If you can´t decided upon what to choose, try their ´surprise pizza´.
Another good place for pizza is called ´Vivi´, it got taken over from ´Da Luca´, but appeared to go on with the same pizza recipes. It´s located on a side street towards the sea, just off the main street. There are lots of Italian people living in Corralejo so there are plenty of Italian restaurants offering good pizza and pasta.
Indian and other Asian Food in Corralejo
Bombay Masala
This is my favourite restaurant for Indian food in Corralejo. It´s a small, family run, business and established in 1998. It is located in Calle Jesús Machín Santana, just around the square where they have life music outside: Plaza Felix Estevez. They are open for lunch from 12.00 – 03.00 pm and in the evening from 06.00 pm till midnight.
TIP – This place is known for the good curry!
Other places for Indian food include ´Fazz´s Indian Restaurant´ located in Calle Playa Chío and I´ve heard positive feedback about this place too but have never been there myself. Other places I only know from seeing are called ´Namaste Indian Tandoori Restaurant´, ´Indian Tandoori Spices Corralejo´ and ´Jaipur Indian Tandoori Restaurant´. Feel free to share your opinion in the comment box below, if you´ve eaten there!
Other Asian restaurants include ´Sushi e´ and also I´ve heard that this place is very good. There are other Chinese – Asian places called ´The Lemon Tree´, ´Asian Garden´ and ´Hong Kong´.
Vegan & Vegetarian Specialized Food Places in Corralejo
´Baobab Juice Bar ´Casa Vegetariana´ in Corralejo
Baobab Juice Bar ´Casa Vegetariana´
Baobab offers a selection of vegan meals and a variety of fruit juices and shots. The place is nicely decorated and the staff is super friendly. It´s not allowed to smoke on the terrace. The place is only open for lunch from 11 am – 4 pm, and closed on Sundays. The prices are a bit above the standard ´Canarian prices´ but for such a healthy food still not very expensive.
TIP – The owners and staff are big animal lovers and make sure to check out their lovely quotes all around the place!
Other healthy places with vegan and vegetarian food in Corralejo include:
– ´H2O Juice Bar & Vegan Café´, located in Calle la Milagrosa with opening hours everyday from 09.00 am – 05.00 pm
– ´Sanus Fuerteventura´, located in Calle Anzuelo with opening hours from 06.00 pm till midnight (except on Sundays). Also gluten free.
– ´Dr Sanchez Bar´, located in Calle Submarino with opening hours from 07.00 pm till midnight, except on Sundays.
– ´Past and Future´ located in Calle Almirtante Nelson with opening hours from 6.00 pm till 11.00 pm, on Sundays from 07.00 pm and closed on Wednesdays.
Places to eat international and ´a bit of everything from around the world´ in Corralejo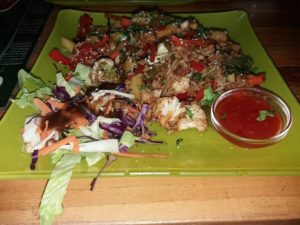 Citrus Surf Café
Very nice place for food from all over the world with a variety of vegetarian food too. They offer fresh fruit juices and nice coffees as well. Food include lunch, dinner and snacks with wraps, burgers, baguetes and you can find something for every taste, from Mexico Burritos to Thai Curry. The place is pretty cheap too and most main dishes are under €10,-. I love the Vegetarian Nasi Goreng from Indonesia. Located in Calle Anzuelo, just off the main street in Corralejo. Open everyday from 09.00 am till midnight, closed on Sundays.
TIP – They have life music on Tuesday and barbeque nights on Friday!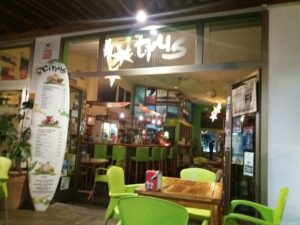 There are many more nice places in Corralejo which can´t be specifically categorised into one nationality or dish, I will name a few here, where I had a good experience. ´La Luna Restaurante´, located in ´Calle El Pulpo´ and open for you all day, everyday! They are open from 08.00 am till 01.00 am and offer an international kitchen for breakfast, lunch and dinner with vegetarian options too. ´La Marcelina´ is a small restaurant located in ´Calle La Balena´. I haven´t tried it myself, but it´s the favourite place of my colleague from who I completely trust her advise (and she is from Italy so might be a better judge then a Dutch girl LOL). The Brazilian place ´Boa Vida´, is actually a meat place offering barbequed meat, but even as a vegetarian I had a pretty good dinner there. They offer many side dishes, including salad, beans, fried banana, rice and chips and meat eaters on the table said that the meat was delicious. I´ve heard that the new Portugese restaurant, located in Paseo Maritimo Bristol is pretty good too and people told me that the fish soup is the best ever eaten.
Take Away and a Quick Bite to Eat in Corralejo
My favourite place to take out a sandwich roll is Cacho Pan and located in ´Calle Juan Sebastián Elcano´. They have huge sandwiches with fresh orange juice for a very cheap price. They also offer warm meals in a local style and good pizzas. If you like to take a sandwich away for your trip to Lobos, do so at ´La Tiendita´. It´s a super tiny minimarket shop next to ´Miro Café´ and the owner prepares you a fresh sandwich if you ask her. You can pick your own bread and my favourite is the brown cereal bread, with white local goat´s cheese, tomato, oregano and olive oil. For a take away pizza ´Pronto Pizza´ is pretty good and they make their own bases. They offer a variety of vegetarian pizzas too and have ingredients as buffalo mozarello and pesto! You can eat in there too.
Coffees and Pastries
Sip a delicious coffee at ´Piazza Grande´ while enjoying the local vibe of children playing on the playground and local people take in some fresh air. Next to coffee they also offer fresh fruit juices, a restaurant menu and snacks. Their brownies are absolutely lovely and the staff is very friendly. The children playground square is called ´Plaza de los niños´. Another nice place for coffee with a nice pastry is the German-owned place called ´La Ola´, the hazelnut ´Caracol´ is a must try! Enjoy your coffee with a nice sea breeze since they are located at the harbour site, in ´Calle Galicia´.
Places to have a drink at night in Corralejo, Fuerteventura, Canary Islands
After your active day in Corralejo and once eaten in one of the places above, you might want to enjoy a drink. Wether you´re looking for chilling out at the beach with a cocktail, for enjoying some life music with a nice glass of wine, for sharing your surfing experience with other surfers with a beer or for practising your salsa steps with a ´Cuba Libre´ (rum coke), Corralejo has a variety of night life possibilities for every age and interest.
Bars, Pubs and Disco for a Drink in Corralejo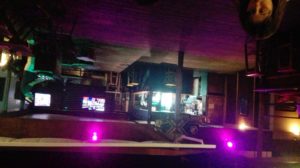 Banana Bar before it gets busy
Chill Out & Cocktails in Corralejo
Babel Cocktail Bar
Nice for a quiet drink in the afternoon or early evening. Here you can enjoy a very nice decorated place with sea view and very good cocktails. Some surfers hang out here too but there´s mix of everything.
TIP – Go for a game of chess on one of the tables outside!
Other places for a cocktail are mostly found at the seafront where you can have a walk around and choose your best cocktail. Of course, in all bars you can enjoy any kind of drink. ´Aqua Bar´ is nice too and they offer free finger food at certain times, but there are many places around.
Surfer Bars & Beers in Corralejo
Buena Onda, Banana Bar & Tequila Beach
These bars are a bit similar in style. They offer life music on a regular base and are thé places to meet other surfers and share a beer together. Banana bar and Tequila bar belong to the same company, and usually when the life music stops in Tequila bar, the people go next door, upstairs to the banana bar on the roof. The bars are located on the seaside just out of the local town. Buena Onda is just around the corner, the street is called ´Calle La Niña´. All bars close around 2 am.
TIP – If the band ´La Banda Flotante´ is playing, definitely go and see them! You will end up on the dancefloor!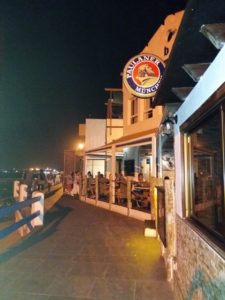 ´Tequila on the Beach´ seafront bar in Corralejo
Dancing and ´Cuba Libres´ in Corralejo
Kiwi Bar & Bora Bora
These bars are playing commercial and Spanish music. If you have enough of the ´surfers chat´ with a beer in your hand, go here for a bit of dancing. You will find local people mixed with tourists. They are located in ´Centro Commercial Atlantico Sol´, just in the beginning of the main street, on the left, if you walk from the old part of town / harbour side.
TIP – Kiwi bar organises proper salsa nights on Wednesdays. From 10.00 pm they start to put salt on the floor and you will catch the first bachata beats. No matter if you´re beginner or advanced, you will find somebody to practise with!
In ´Centro Commercial Atlantico Sol´, you can find other bars too, like English bars doing pub quizzes and karaoke. A busy touristic bar is called ´Flicks´, although I have never really been there I met many tourists having a good night there. There are also more Latin music bars with nice music and some late night places to eat.
More night life in Corralejo
Rock Island Bar
This place can get busy as well, and they have life music on a regular base, always in an ´unplugged´ style, like a piano player or guitarist. Rock Island Bar is located in ´Calle Crucero Baleares´. If you like to sit in a Irish Pub, head down to the Mc. Carthys Iris Pub, just of the main street. Sometimes they have life music playing. I´ve heard that people had some good nights in ´El Piano de Cola´ too.
More dancing after 2 am in Corralejo
Waikiki Disco
If you still have energy left, after all previous activities, your dinner, some drinks and a bit of dancing, there´s always the option to go Waikiki. Waikiki is located right at Waikiki Beach. The place only gets busy when all other bars are closing down, so it means only the real party-animals will make it there. If you mention the next day that you have been to Waikiki, people will know how you feel! Hopefully a water sports activity will help getting rid of your hangover and make sure to drink plenty of water!
Enjoy your dinner and evening in Corralejo! – ¡Buen provecho!
Tapas on the Canary Islands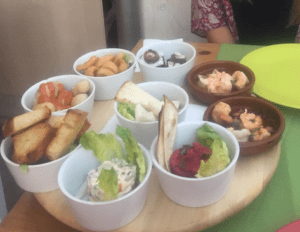 Hopefully by now I have helped you a bit clarifying the enormous choice Corralejo offers in regards to food. I hope you find a nice place to eat or drink because of the recommendations in this article. Like I mentioned before, the places I´ve named here are mostly based on my own experience. Maybe your opinion is different or your favourite place is missing out. It might not be complete since I haven´t try most of the places at all, there´s so much choice! However, please feel free to share your favourite place in the comment box at the end of the article, if I missed that one out or if you have a completely different experience with one of the places above.
Tips for choosing your accommodation in Corralejo!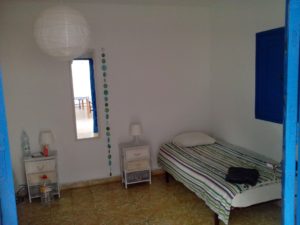 I recommend to stay at Flagbeach´s surf camp ´Sol y Mar´. This has become my ´home sweet home´ away from travelling! For me, it´s one of the best hostels I have ever stayed in during all my travels around the world. It´s a budget accommodation, super clean and with a amazingly good vibe.
If you´re looking for a more private or luxury type of accommodation, click here for an overview of all accommodations in Corralejo. There are many different types of accommodation including private appartments, hotels and more. Furthermore, Corralejo is full of surf camps and hostel style accommodations.
I do recommend to book your stay in Corralejo in advance. Sometimes places are fully booked or you end up with another type of accommodation then you were looking for ie with a more expensive place or a shared room while you wanted to have a private room. Also, it saves you from wasting many precious hours in Corralejo searching for a place whilst carrying your luggage around.
If you use booking.com, you´ll get the same price as when you book directly by your accommodation. Almost all accommodations in Corralejo are now listed on booking.com so make sure to book your preferred accommodation in time. Many times you can cancel free of charge within a reasonable time.
In case you enjoyed this article and it helped you in some way, you can do something back if you like to book your stay. You can book through the search box below or by clicking on one of the links in the above part. I will earn a small commission and it won´t cost you anything more 🙂
If you would like to read more about things to do in Corralejo other then surfing, please click here or for more reading about the Canary Islands in general, you can do so by clicking here. If you would like to add your e-mail address to my mailing list, then scroll down a bit to the pink part and insert your e-mail address there. My next articles will include my experience in the city of Bristol in the UK and visiting the Stonehenge. And since I have just arrived in Thailand you can expect some about this beautiful country and its diving too! For all articles which are travel related, click here! Happy travels!
Thank you Tourism Board Fuerteventura and Unsplash for providing some of the photos in this article.
All rights reserved