Travel Blog Update november 2017 Canary Islands, Bristol, United Kingdom, Thailand
Past, Present, Future: Travelling, Writing and Diving!
My previous travel blog continues..
Instead of just putting informative travel posts, I would also like to go on with my travel blog! In the past I used to keep a diary on a Dutch website called ´waarbenjij.nu´ I started this blog when I first left the Netherlands and went to Gran Canaria to do my Divemaster traineeship in 2006. I continued blogging here during my time working in the Dominican Republic, Mexico and on the Maldives. I also wrote about my travels to Belize, Guatemala, Honduras, Sri Lanka en Bali. However, at some point in New Zealand I stopped blogging. Unfortunately, Australia and the Philippines never made it to that blog, but you can read my completely story soon in the book I´m recently writing called ´Safety Stop´ and I´m planning to write an article about my great dive- and island hopping experiences on the Philippines in 2012.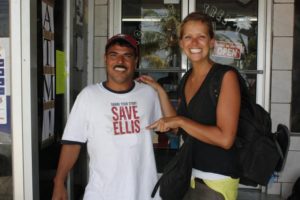 Ellis on Roatan Island, Bay Islands, Honduras
The recent past: catch ups & bye-byes in Corralejo, experiencing Bristol, UK and arriving in Phuket, Thailand!
What´s up, 11 years after I left the Netherlands?
Right now, at the time of writing, I am in Phuket, Thailand. But first, I like to update you a bit about my recent past. After New Zealand, Australia and the Philippines, I turned back to Europe and somehow ended up on the Canary Islands, again! I consider this place more as my home then the Netherlands after I have been living there for so much time in the last decade. Although, I´m still not sure which island to consider my ´home´: Gran Canaria or Fuerteventura. But I guess that I do not need to decide that now! Over the last 1,5 years I have been working in a surfhostel in Corralejo on Fuerteventura. Well, ´working´ might be a big word, I was present during the evenings, did check-ins, was around for questions, helping guests and did a bit of cleaning. I was also living in the hostel and have had an amazingly great time there. I still recommend this place to everybody who likes to go to Corralejo and I´m pretty sure I will be back one day! Actually it was a time I came to stand still in my life, except of going to Peru which ended up being a complete disaster (softly speaking!).
Then my travel fever started to rise again and I had a longing to pick up my almost forgotten passion: Scuba Diving! First, I thought I just miss the diving. So I started to help out a divecenter in Corralejo to refresh my skills as an instructor, but this didn´t last very long. I decided, if I would like to dive, why not go somewhere where the diving is a bit more interesting and less cold then the Atlantic Ocean? And exactly on the day I decided this, my ex-colleague from the Dominican Republic in 2008, told me he has opened his own divecenter in Thailand. It´s funny how things can go in life, because Manfred and me never kept in touch till I bumped into him on Malapascua Island, Philippines in 2012 and then we connected on Facebook. He told me that he might even has a job for me, although he still needed to see how the things go for him since he just took over! So my decision was made: I go to Thailand to dive again! He found a cheap room for me and told me to pick me up from the airport. This made me feel very comfortable after the drama in Peru. I was looking forward to dive and travel again!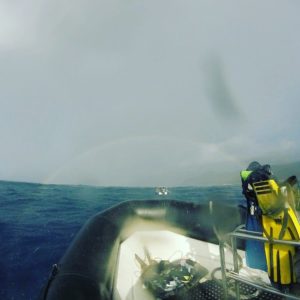 Photo by Ellis Derkx, El Hierro, Canary Islands
The contrast of catch ups and saying goodbyes in Corralejo!
During my time working in the Sol y Mar Surfhostel I started to meet many new people and had a lot of fun with many repeating hostel guests. Some of them became actually friends and I´m sure I will see them again someday. But also I became friends with the staff, my boss Rachel and colleagues Claire and Martha. So it was not easy to say goodbye, knowing that I don´t know when I see them again. We were close and were always there for each other in good and bad times! Also, my Argentinian friend Carolina, who was my housemate in Australia, on Gran Canaria and on Fuerteventura is one of my friends still living in Corralejo. But one thing we know: we keep meeting up, wherever that might be, since this somehow always happens! I remember that people were calling me ´the catch up girl´ on the Philippines. Just because also on that time I saw so many people again, either accidently or planned over Facebook! In my last week in Corralejo I was so happy to meet with my friend Alona who came to visit Corralejo! Alona and me were colleagues in the Dominican Republic for about 7 months. We became very good friends and almost sisters when we worked together every day and spent a lot of time in the evenings with her husband and my boyfriend that time. We saw each other again when we were both working on the Maldives, but that was just too short! This time, we actually had some time to catch up on our life stories so far but most of all to remember all of our good memories of Dominican Republic. What a good, old time was that! Our crazy but good boss, Thomas, took us out for beers almost every night and still we managed to run the divecenter every single day. I don´t know how we survived certain days, but we did it and it was so much fun! Also I got to meet her new boyfriend and celebrate his birthday on a very dangerous Russian style: too many drinks, but good laughs! And in between saying goodbyes, I also saw some friends from the Netherlands again, from my hometown and my studenttime. Yes, the last month in Corralejo was full of catch ups and memories. But then there was the time to leave and to start creating new memories!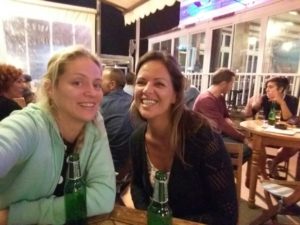 Matrioska and Cheesehead, as we were called in Dominican Republic
As always, it was a big challenge to pack my luggage and dive gear. This time it was even harder, since I wasn´t sure to be moving to one location for a complete season. So the challenge was to pack myself mobile but still take my diving equipment, which almost weights 20 kg. Although I´m not owning much things, I only have some boxes and bags stored at my sister´s, my aunty´s and one bag in the Sol y Mar now. So in the end, I was proud to fit all my personal stuff including clothes, cosmetics, etc into a small backpack which only weights 10 kg. A big sports bag on wheels, contained my dive equipment. I´m ready to go!
If you have become curious about Corralejo, then you can read an article I wrote about 10 things to do in Corralejo.
From Canary Islands via the Stonehenge to scuba diving in Thailand!
I actually decided to do the ´Hay House Writer Workshop´ in Bristol, and that was my reason for going there in the first place. But like always, sometimes my plans change! And although sometimes I need a long time to make decisions, at other times I´m just impulsive and change them exactly in the moment. I decided I want to discover the area and most of all to see the Stonehenge! The Stonehenge is on my bucket list since a very long time now and I didn´t know it was so close to Bristol, till I actually got there. My weekend was very tightly planned, so if I was going to do the workshop, I didn´t have time for any other things. When I realised I could cancel free of charge, I just did it! Yes, I know I am still crazy at times. Whether it was actually my fear of publishing my book (and speaking my truth), the costs for the workshop, the Stonehenge or considering the fact that I just need to finish my book and don´t really need a workshop for that, I don´t know!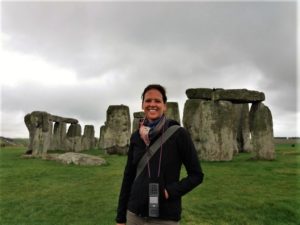 Ellis visiting the Stonehenge
However, I never regret the cancellation because I had such a great time! I took the train to Salisbury and enjoyed the beautiful, green landscape during the trip! Sometimes it felt a bit like being in New Zealand again: so much greenery and sheeps everywhere! But the difference with New Zealand and England are the beautiful, old houses and roman style buildings. This pace has a history to tell! I immersed myself back in time and imagined myself right into ´A Christmas Carol´ by Charles Dickens. After coming back from the Stonehenge I entered into a warm and cosy typical English pub to enjoy some food and warm up after almost suffering from hypothermia! But that was all worth it! The next day I walked through Bristol city and also visited the city of Bath and the old roman bathhouse. I had the best weekend in a long time and I completely forgot I actually came for a workshop. I hope to find the time to write a travel writing article about Bristol with some useful information, because I think it´s a great destination to visit for a weekend away for people living in the Netherlands or elsewhere in Europe. I can recommend to stay in the Washington Guesthouse, for an affordable but comfortable, private accommodation with an amazing breakfast.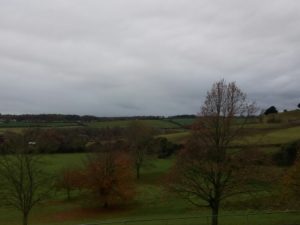 Picture from the train, green scenery around Salisbury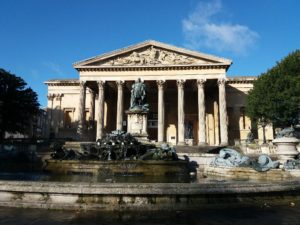 University of Bristol, Victoria Rooms
On Monday morning I took the National Express Bus at 04.30 am from Bristol to Heathrow Airport. I checked in for my flight to Phuket and after about 13 hours of flying I had a stopover at Singapore Changi Airport, which also brought back pretty intense memories. My next flight was delayed: we were waiting to take off when we got told that we were waiting for the luggage. Even though we were waiting for the luggage, upon arriving in Phuket it appeared that the plane has taken off without any of our luggage. So I arrived in Phuket without any luggage: welcome back to South East Asia! But I was fortune to be picked up by a good old friend: Manfred! He was waiting for me with a chocolate criossant, a very warm welcome! Manfred showed me around Hat Nai Yang and dropped me off in my cosy room! In the afternoon my luggage got dropped off too so now I could chill out and relax!
Present: writing and diving in Hat Nai Yang Beach, Phuket
Right in my first week, my friend from Singapore, Davinia Wong, came to visit me. Together with a fellow female diver and the owner of the café next to the dive center, we went on a ´ladies day trip´ around Phuket Island.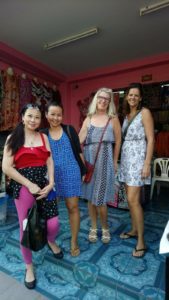 Ladies Day Trip through Phuket
Phuket is Thailand´s largest island taking up around 550 km2. The island is located at about 900 km South of Bangkok. The name of Phuket comes from the Malay word ´Bukit´, meaning the crystal mountain. Phuket still has some original tropical rainforest and so after our first stop at ´Wat Phra Thong´, the Golden Buddha Image Temple, we continued to the Khao Pra Taew Wildlife Reserve. It is said that the park is still home to wild boar and monkeys and contains the last of the island´s natural eco system. We stopped for a walk in Phuket old town before admiring Wat Chalong Temples Park and Big Buddha after that. After lunch, we went down for some more touristic places and beaches, making me appreciating my stay in Hat Nai Yang even more. I´m glad not to be staying in one of these overly touristic places. Before making our way back to Nai Yang Beach, we watched a beautiful sunset at the beach of Laguna. The next day we celebrated the birthday of Manfred with a big party and it was very nice to meet his wife from China.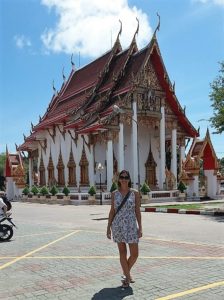 Wat Chalong Temples Park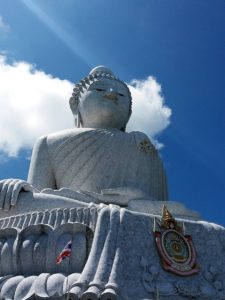 Big Buddha, Phuket Island, Thailand
The following weeks up until now existed mainly of scuba diving and writing! Only twice I went out to have a beer with other people and all the other evenings, I have been writing non-stop and it just came automatically! I wrote my full story of my experience in Peru and started to create a Dutch website too! Scuba News has started to feature my articles about scuba diving and I´ve nearly finished 3 more blog articles: My experience of becoming a diving instructor, the experience of working as a diving instructor in different countries and how I gave up on my book and picked it up again. I also made some adjustments to this blog and swopped ´Body Mind Soul´ for ´Scuba Diving´. Mainly because that´s one of my other passions and I think in regards to ´Body Mind Soul´ that everybody is on his/her own path and I can´t really tell other people what´s good for them. And next to the writing and diving, I started to go to the gym, simply because it´s too hot outside to run.
The diving is amazing! The corals are better then I expected and they attract a lot of fish life. I´ve seen a turtle, many octopuses, rays, morays, barracadus, scorpionfish, many nudibranchs and more macro life. Something else to tick off my ´underwater bucket list´ is the Seagrass Ghost Pipefish! There´s a nice wreck dive too and I wrote a full article about the diving in Hat Nai Yang, which is now also published on the Scuba News. It appeared that Manfred didn´t really have a job for me, so I went to Khoa Lak for a job interview. I couldn´t image what the place must have been when the tsunami hit it in 2004, knowing that this place was hit worst that time. It turned out that I didn´t Khao Lak very much, mainly because there´s not really a centre and the beach is full of resorts, so everything is kind of happening on a double, high-speed, street. Please don´t take me wrong, some people love it, but it´s just not my style. I prefer a quiet beach or island life. Also the job was for a full time office job and I expected to be able to dive a bit more. If I work 6 days a week in an office I can forget about my writing! But, something else came around and it looks like that I can start making some money as a ´dive travel writer´ and/or with translating! And it is actually my dream to carry on to the next destination as a nomad! I have to see exactly how the things go but I can always start teaching diving again, maybe on one of the places I´m going to next!
However, if you do go to Khoa Lak, I can recommend to stay in the Monkey Dive Hostel. It´s a great place for divers and single travellers. The place is Thai-run, pretty new and very clean. They are funny fish- and dive decorations with interesting facts all over the place! For accommodation in Nai Yang, please click here.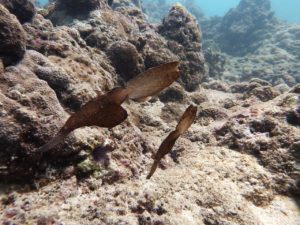 Seagrass Ghost Pipefish (Robust Ghost Pipefish)
Future: More travels, writing and scuba diving!
My last day in Nai Yang has begun. I will leave for Phuket town tomorrow to extend my visa for another month before hopping on the ferry to the island of Koh Lanta the day after that. One of my best friends from the Netherlands, Nicolle, is coming to travel Thailand together with her boyfriend Laurens, and hopefully we can catch up somewhere!
My plan is to go from Koh Lanta to the Island of Koh Muk (Koh Mook) and then to Koh Lipe, even further south. I can see if I find an instructor job on one of these places but if not I continue to Malaysia! There´s a ferry going from Koh Lipe to Langkawi Island in Malaysia and the writing job is mainly for writing about Malaysia, so let´s see! I´m truly happy now because I do the three things I love the most in life: travel, scuba dive and write. I don´t miss the things I sometimes thought I was missing in Corralejo like having a home or a relationship. I believe even more now that we if we don´t create our own happiness by fulfilling what we feel inside, we start seeking it outside ourselves. But for me it never worked that way and it will never work.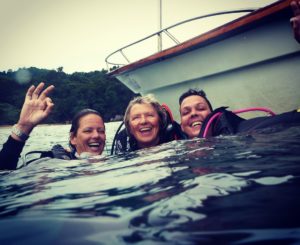 Vielen Dank!!
A big thanks to Manfred for inviting me to Thailan so I did take that step. And another big thanks to Silvia Gegenwart for some of the photos in this post.
What´s next?
Other articles you can expect of me are the ones I mentioned already, about my life as a diving instructor and about my break down on writing my book! Click here for the next travel blog update in which I write about leaving Phuket and my first week on Koh Lanta.
Merry Christmas!
For now I like to wish everybody already a very merry Christmas and all the best for 2018. I won´t send any cards this year, so hopefully this will do 🙂 I hope that all your wishes will be fullfilled in the new year. My feeling about 2018 is only good, good and good!
If you like to receive an e-mail every time I post something new, you can sign up for my mailinglist by scrolling down to the pink part. Just above ´About Me´, you can enter your e-mail address.
Cheers everybody!
Safe travels, happy bubbles and enjoy whatever you are doing!
With Love,
Ellis